verit Informationssysteme GmbH is a privately held software company headquartered in Kaiserslautern, Germany. Since 1997, the company is developing and marketing software based solutions and products to customers.
Since 2010 verit Informationssysteme is producing and marketing the professional test management solution Klaros-Test­management. The modern web-based solution is distributed worldwide to customers of various industries. To date, over 12,000 installations have been performed worldwide.
In close cooperation with leading customers the functionality and ease of use of Klaros-Test­management is constantly improved. Likewise, the number of interfaces to other test and development tools is steadily increasing.
The services provided range from the selective amplification of large teams on the development and quality assurance of complete projects up to technology and architecture consulting, guided by a sensible blend of proven technology and new trends.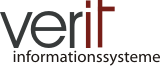 Outstanding Software
---